---
Artist Talk
October 7

"First Fridays" at OACC Celebrates Filipino American Heritage Month
October is Filipino American Heritage month, and OACC's "First Friday" event will feature two exhibit receptions highlighting Filipino artists: One featuring Epekto Art Projects and the second exhibit featuring Henry Francisco and Emagn1 on basketball/sneaker culture. Other programming is TBA and may include free workshops in Japanese Taiko drumming, games and crafts from Asia, and more.

OACC's "First Fridays" event series brings dynamic and free community programming for all ages to the heart of Oakland's Chinatown from 6-9pm the first Friday of each month. Programming varies each month and has included free classes and workshops in various types of drumming, dance, and martial arts; games and crafts; panel discussions; open mic; exhibit openings; and other activities.

About Epekto Art Projects: "Epekto" is a Tagalog word meaning: reaction, effect or result. We are a contemporary Filipino/a visual art group located in the Bay Area that began in 2011. As a collective we strive to come together and cultivate a community for Filipina/o artists, supporting each other's development through exhibiting, resources, and forming connections. Our members were either born or have lived in the Philippines and migrated to the U.S. Learn more about us at: http://www.epektoartprojects.com.
Opening Reception
Friday, October 7
6:00pm-9:00pm

---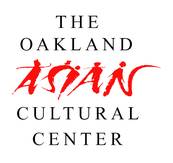 Organizations
Oakland Asian Cultural Center
Chinese, Japanese, Indian, Korean, Southeast Asian, Himalayan & Central Asian, Islamic & Middle Eastern
The Oakland Asian Cultural Center (OACC) is a unique pan-Asian arts and cultural center offering free and low-cost programming that reflects the breadth and depth of the Asian and Pacific Islander (API) community. OACC provides free and low cost programs that support vibrant, healthy, and just communities. Our vision is to be a thriving first class community arts organization in Oakland and the Bay Area that promotes cross-cultural dialogue and understanding for present and future generations. OACC has ongoing programming in six areas: 1) festivals and events such as an annual Lunar New Year Celebration; 2) classes for all ages in music, dance, language, martial arts, art, and more; 3) rotating exhibits; 4) artist in residence program; 5) school tours and outreach program; and 6) community collaborations to produce a variety of events.
www.oacc.cc
Contact

(510) 637-0455
United States
388 Ninth Street, Suite 290, Oakland, CA 94607
Hours
Wednesday
4:30 pm–7:30 pm
Saturday
10 am–5 pm
Sunday
10 am–3 pm