---
October 13 – October 14

Gallery Show and Sale
A unique venue for Asian art and antiques, housed in a renovated car repair garage, chuck full of Japanese, Southeast Asian, Chinese , furniture, textiles, ceramic ,folk art. Precious, whimsical and delightful collection to feast your eyes on and maybe acquire at a reachable cost. This weekend we offer guests of Asia Week a 20% courtesy discount
---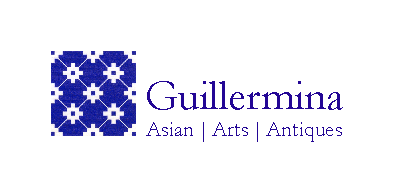 Galleries & Dealers
Guillermina Asian Art and Antiques
Japanese, Southeast Asian
Guillernina Asian Antiques has been in business for 35 years in the Bay Area.
Concentrating on the richness of Japanese culture and art with emphasis on "Mingei".
Due to her heritage(Filipino) and living in Thailand in her formative years,traveling in
neighboring countries, she has soaked up Southeast Asian aesthetics, which her
gallery projects.
guillermina.com
Contact

(510) 237-0036
United States
101 West Richmond Avenue, Point Richmond, CA 94801
Hours